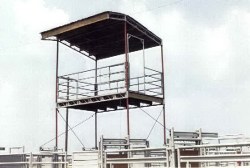 (Click above for fullsize picture)
was designed with the same high quality standards as the fencing and rodeo equipment that completes the dynamic W-W line.
It combines . . .

the ingenuity of a partial truss system

and the strength of our panels and gates,
to give you the most outstanding association in the industry.